You're not alone anymore
Jane's new book explores the themes of love, loss and life itself…
Details of Jane's previous book:
eBook for Kindle also available through Amazon
Problem with online purchase? Just email: jane@janemcullen.com
Benedict Marshall is a charismatic, articulate, award winning playwright. At 62, his life is altered dramatically in one week by two events - being diagnosed with Parkinson's and meeting Nell, a much younger, out of work actress. They form an instant and unlikely close friendship. He shares his guilt and introspection about his past and the fear and isolation he feels in his own body, with Nell and she confides in him the insecurities and challenges she faces in her profession.
As they grow closer, Benedict valiantly battles against his Parkinson's with black humour and charm, while trying to deny to his family and himself, his unspoken love for the young woman who everyone warns him can only be after his money.
But the novel also explores the close relationship between two retired men, Benedict and his next door neighbour Sidney and how their friendship supports and sustains both of them through a difficult year.
About Jane M Cullen
As an exercise specialist, Jane has specialized in supporting the less able to benefit from exercise through teaching Yoga, Pilates and Tai Chi to many different groups, in particular those living with Parkinson's and MS. During the many years of teaching, Jane has loved meeting and getting to know those living with these long term medical conditions and considers them as friends. Jane says, 'I love them all. They are all inspiring. My novel has a hero who has just been diagnosed with Parkinson's and I did that because in my opinion, they are all heroes. They are all fighting their own hidden battle every day of their lives. The profits of all money raised from this book are going to Parkinson's charities or projects. Money is the only way to bring about a long awaited cure. The novel has quite a lot of humour in it but it doesnt shy away from the realities of living with an illness like Parkinson's. People should know what the reality is like and yet I wanted it to be uplifting aswell. I hope I have done all my friends with PD justice.'
Through self publishing her novel, Jane has met and connected with people living with Parkinson's all over the world. 'The reaction to my novel has been fantastic, more than I ever thought possible. The reviews on Amazon Kindle have completely bowled me over. Many people can't believe I have written a novel about a man recently diagnosed with Parkinson's and I've received so many emails from Canada, the US, France, Sweden, Norway, the Netherlands and all over Britain thanking me and telling me how much they loved it. It's been quite overwhelming. People don't expect to be laughing out loud when reading it, so that comes as a great surprise, but many of the people in my classes who live with Parkinson's have quite a black sense of humour and I wanted to reflect that. I have been all over the country giving talks about the novel to various groups and it's been interesting to hear that many people think Parkinson's is 'just' a tremor and it's so much more than that. The symptoms are often hidden. Raising awareness is vital. What I wanted to get over most of all is, although the diagnosis of a serious medical condition is terrifying at first, people continue to live their lives in the best way possible, often with a strength of mind and determination I can only marvel at.'
As Nell says to Benedict in Say That Again, 'It will never diminsh you. Don't you dare give up.'
Jane is available to give talks to Parkinson's groups about exercise and Parkinson's and about her novel, (please see contact email below). She also gives other talks on exercise and ageing, the role of exercise for mental and emotional wellbeing, Yoga and Yoga Therapy for Parkinson's and MS and Yoga Therapy for stress and depression.
CONTACT
Other Books:
Is Food A Weight On Your Mind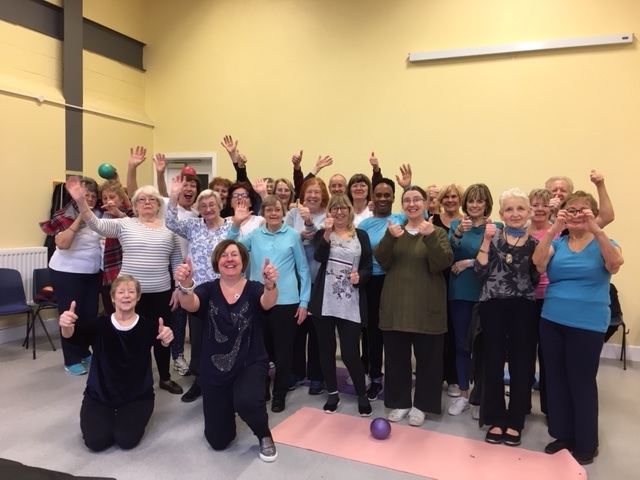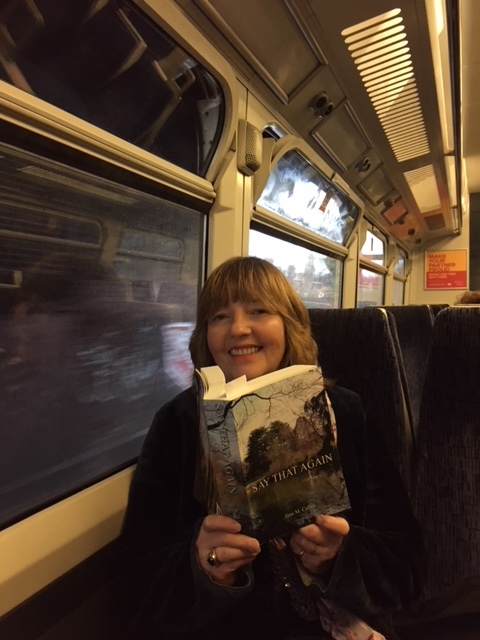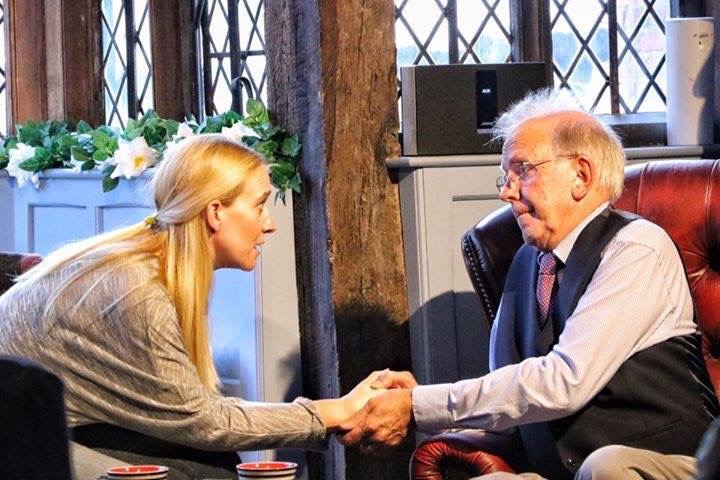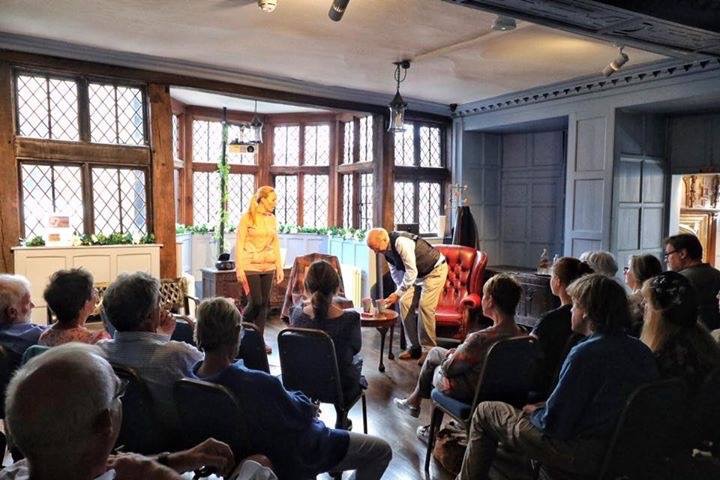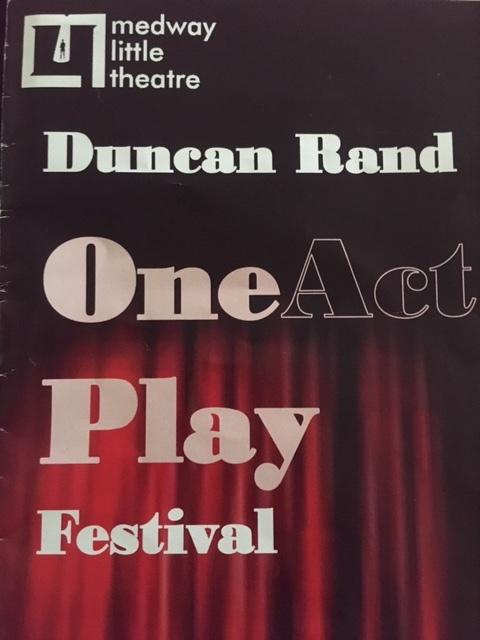 Listen to interview with Jane on Kent Radio:
Latest News
Play based on the book performed at NeuroArts Festival 20th & 21st July 2019 in Rochester.
It was a great honour to be asked to adapt Say That Again into a one act play for the first NeuroArts Festival to take place on the 20th and 21st of July 2019. It wasn't easy turning a 600 page novel into a play of just under an hour but I was very pleased to be asked and even more pleased with the result.
The Hempstead Players took on my play and did a wonderful job with it and I was more than happy with their performances. The actor who portrayed Benedict, my hero with Parkinson's, didn't over play it and got it just right! On man living with Parkinson's had to leave the room for a few minutes because he was so choked. Another man said his father had lived with Parkinson's and he was also moved to tears. However, as with my novel, it had some very funny moments in it which the audience responded to with a lot of laughter. Both performances were full and Sunday especially was standing room only.
Eastgate House in Rochester High Street was a beautiful venue and especially relevant as Dickens often frequented it when he live in Rochester and it is mentioned in two of his novels.
The Hempstead Players then performed it again at Medway Little Theatre and put it in for the Duncan Rand One Act Play competition where it came second. It also won Best Lead Character, Best Supporting Actor and Best Newcomer. I was so happy for them because they did fantastic job. The Director, lighting and stage manager were all brilliant and they all worked so hard to bring my play to life for the festival. See the photos for the performance and them with their awards. I am deeply grateful to them for taking it on.
On the back of this success, I will be sending the play to Radio 4.
In the next few months I will continue to give talks to various Parkinson's groups and libraries, but my main focus is my new novel, You're Not Alone Anymore, which will be for sale at the beginning of September.
Read reviews on Amazon: Click here.